International development is one of the top priorities for many companies today, to adapt to the globalization phenomenon. Whether through E-Commerce or by setting up in foreign countries, international strategies are developing and are no longer exclusively reserved to large groups. Indeed, globalization and the development of online sales offer new opportunities for SMEs and entrepreneurial companies to diversify their market. However, according to a study by HSBC France, only 10% of companies that want to embark on the international adventure believe they have sufficient knowledge of the foreign market. So, although at first glance, the international market seems to be a source for many opportunities for companies, what are the real advantages of an international development and how to succeed in the transition to foreign markets?
Why develop its business internationally?
First of all, it is usually important for already established companies that are losing momentum to renew their business model. In this case, international development can prove to be a real opportunity to conquer new markets and to diversify its offer according to new customers. Indeed, changing countries also means changing customs and lifestyles, and a company must challenge itself by developing new, adapted products. Basically, adapting to another territory with a different economic cycle allows companies developing internationally to achieve a balance in their business portfolio. It is also a good way to get out of the domestic dependency that sometimes makes the balance of a structure shaky.
Internationalisation also enables it to develop its creativity and R&D. Indeed, to reach new markets, it is a question of innovating and adapting to new territories. By acquainting themselves with the DNA of new countries, companies are generally able to diversify their services and become a driving force of change within their sector of activity. This also enables them to develop a true corporate culture based on open-mindedness, inventiveness, innovation but also the quality that is essential for international success and also to remain competitive on the market.
To sum up,the main 5 advantages of developing its activity internationally are :
Growth : it has been observed that companies increase both their turnover but also their profits because they simply sell more.
Increased competitiveness : by invading another market, the company indeed benefits from a bigger number of potential clients but the level of competition arises with it. Therefore, the challenge is to optimize the company's processes in order to propose goods and services at a better price and simultaneously, to be able to guarantee their quality. The priority is to reduce the costs and to promote innovation.
Risk diversification : it is reassuring not to depend on only one market because if a crisis arises, you might lose it all.
Enhanced brand image : by being present on a few markets, a company gets greater international recognition and therefore, brand awareness. It is reassuring for consumers to see an international brand because it inspires trust in the quality of the goods. In the context of SMEs or entrepreneurs, the visibility notion is necessary to continue to develop.
New opportunities : the emerging markets' growth means an increasing demand which is an ideal implantation factor for a company.
However, developing internationally involves many challenges for companies, which is why it is necessary to know some basics about setting up, but also to know how to be accompanied by the right people in order to design the best internationalization process possible.
Some ways to develop internationally
In order to embark on the international adventure, it is first of all a matter of choosing your country and market carefully. It is advisable to analyse very precisely the main following points :
the market
the already existing offers or competitors
the existing constraints in the country through a PESTEL analysis
It is also about having the best possible international approach according to its sector and its products. Indeed, for certain types of products, the choice of international sales through E-commerce will be much better than setting up in a country. It will therefore be a question of selecting the tools and the most favorable means to develop its activity and its visibility.
The internationalization process is in 5 steps :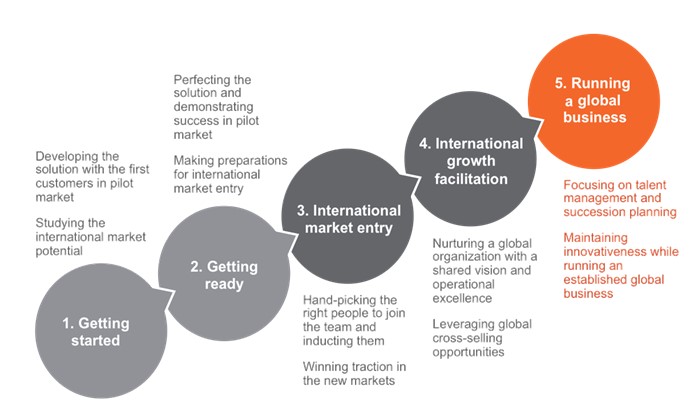 To develop internationally, one also needs to be accompanied by a trusted team that knows the market or is interested in international development. For this type of large-scale project, it is a matter of having passionate and inquisitive people who will guarantee the success of this transition to international development. But most importantly, the priority is to be accompanied and helped by competent people in the field. It is not uncommon for some companies to launch themselves headlong into internationalization based only on their instincts, hearsay or internet researches. In this case, forgetting to take into account all the factors that determine the success of such a project can be fatal and also hurt your already existing national business. Therefore, one has to take into account the 11 following challenges, which represent the main barriers to expand your activity internationally :
Company's structure : the business organization and the location of the teams
Foreign laws and regulations : trading & employment laws, health, security & environmental standards…
International accounting : tax implications
Cost calculation : it therefore aims to establish the pricing strategy
Security : guarantee trustworthy international payment methods
Currency fluctuations : in order to avoid any mistakes or problems, it is recommended to pay your employees and suppliers in the same currency that the one you sell your goods in
Communication difficulties and cultural differences
Political risks
Supply chain management : in order to avoid workforce exploitation
Environmental issues
Junior-Enterprises have today the skills to accompany internationalization and the development of international visibility.
How can the J7 Junior Entreprises support companies in their international development?
The J7 is a group of 7 leading Junior Consulting Firms from 7 European countries that offer various consulting services for clients : from entrepreneurs to great corporations. We have a very wide range of services that allow us to support our clients at all stages of international development. Thanks to market studies and business plans, we are able to support our clients in their setting up in new markets. Similarly, we offer Web Marketing services to develop the visibility of your site in your region, in your country or even internationally. We can also offer services of website creation or application to enable you to launch yourself in an international E-commerce. And finally to accompany you in depth in your project we also have the possibility to accompany you around your legal questions. Our consultants are rom the Generation Y and therefore are pure products of globalization : they are therefore the masters of internationalization. A great advantage of hiring students from the top european schools is to ensure that they have the latest knowledge discovered yet, and therefore state-of-the art approaches in addition to innovative solutions because the young mind is very creative.
Choosing J7 to advise you on your international project means choosing 7 junior companies who have even decided to work internationally to develop their business and to accompany large-scale projects. Being ourselves internationalized and working regularly in cooperation around international projects, we have the ability to accompany you in your projects.